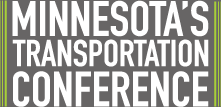 Please save the date for the 2015 conference, scheduled for March 4-5 at the DoubleTree by Hilton in Bloomington. More information will be posted here as it becomes available.
Visit the Minnesota's Transportation Conference website for more information.


Transportation Committee
The Transportation Committee develops policy positions on transportation matters, maintains liaisons with public agencies and monitors transportation activities.
News and information about the Consultant Contract Program Collaboration Project and ongoing collaboration initiative updates
The latest version of the AASHTO Uniform Audit and Accounting Guide
The report to the legislature on the Taxpayers Transportation Accountablity Act
Minutes of the May 11, 2010 Mn/DOT - ACEC/MN Executive Committee meeting.
Powerpoint of the Mn/DOT - ACEC/MN Collaboration Project presented at the July 15, 2010 Mn/DOT - ACEC/MN Breakfast meeting.
Link to the FHWA Every Day Counts initiative
Summaries of Mn/DOT - ACEC/MN Working Team accomplishments